Mother Daughter Granddaughter Special Friend Gathering
When:
May 2, 2019 @ 5:00 pm – 9:00 pm
2019-05-02T17:00:00-05:00
2019-05-02T21:00:00-05:00
Celebrate an early Mother's Day with the special girls/women in your life!
Come for supper and then enjoy hours of creativity, inspiration and fun. Bless yourself and someone you love with this time to just be together.
The optional dinner is from 5:00-5:30pm.
Carol Sullivan will inspire us from 5:30-7:00pm with "My Prayer Book." How would you like to create your own personal prayer book that could keep track of ALL of your prayer requests and so much more? This prayer book is easily compiled by you and easy to update and keep current. In this simple book, there will be space for prayers of praise, gratitude, petition, health requests, special holy cards, prayers particular to you and your life situation, etc. Your prayer book will be unique to you and will grow as you do. Join us for a very fun presentation on prayer along with creative time to make your personal book that you will use and treasure for years!  Minimum age is 8 years old. Material Fee is $5.
Then from 7-9pm Nancy Wensman will lead "Budding Artists." Come and nurture your creative side while reflecting on Mary, the mother of Jesus, in this month that celebrates Mary and mothers! Artist Nancy Wensman will guide the beginner, as well as those more familiar with a brush and canvas, through the steps it takes to create a Faceless Madonna and Child painting. Every person who comes to visit the new Firstfruits home in Elm Grove comments on this painting. So we thought it would be nice to provide the opportunity to make one of your own. Don't wear your Sunday best, things might get a little messy! Limited to 15 participants. Material Fee is $10.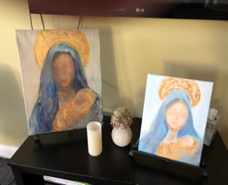 Thursday, May 2
5:00-5:30pm Dinner
5:30-7:00pm My Prayer Book
7:00-9:00pm BuddingArtists
You may attend 1 or both sessions.
Cost per session: $10 for non-members/ $5 for members
Plus Material Costs
Dinner $5 for non-members / FREE for members
For more details, see the brochure.