Welcome Home!
What to expect at Firstfruits
Our location
With ample parking and elevators, we are in the lower level of the Village Court in the heart of Elm Grove just north of Bluemound Road.
Use "890 Elm Grove Road" if using Google Maps or Map Quest.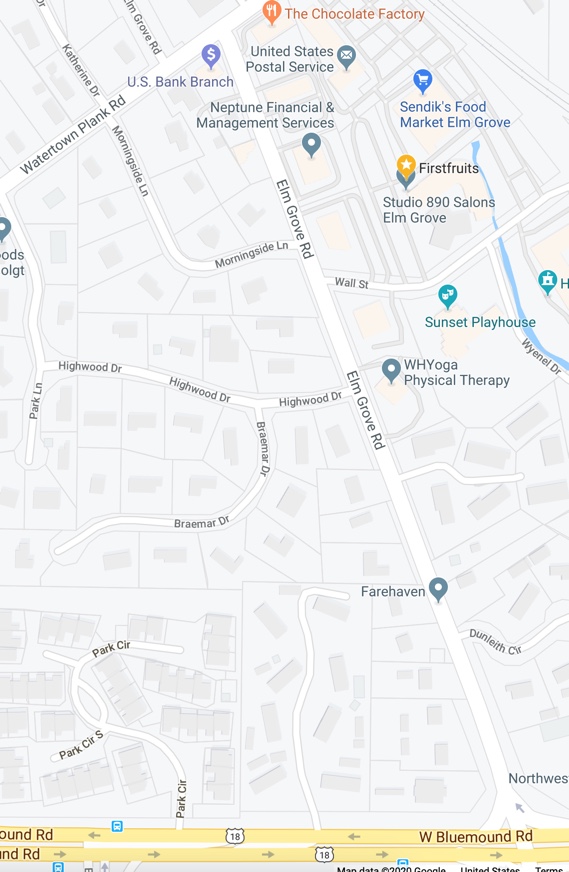 How Our New Space Has Changed The Firstfruits Experience
Firstfruits has found a wonderful place to call HOME! Centrally located in the heart of Elm Grove, the space allows us to provide much more for women - and whatever else the Spirit has in store.
By moving into its own space, Firstfruits is able to provide more frequent, ongoing offerings in an accessible location that is not connected with a particular parish or church. This neutral setting may seem more comfortable to the unchurched or women who have strayed from the church. It enables Firstfruits to better complement church efforts to meet spiritual hunger.
And, in a secular setting, Firstfruits can boldly and creatively answer the call to evangelize in the world around us! We are Christian in tradition and ecumenical in outreach – all are welcome and encouraged to attend.
"I invite everyone to be bold and creative in this task of rethinking the goals , structures, style and methods of evangelization in their respective communities."
Evangelii Gaudium- " The Joy of the Gospel"
Pope Francis
Check out our monthly calendar of happenings to find out when you can attend . . .
Group sessions on a wide variety of topics
One on one mentoring
Weekly sessions such as Well-Time, Truth Be Told, Abiding Prayer, and Ponder This
Multi-week workshops such as Called and Gifted and Gift, Gratitude, and Joy
We-Awareness Outreach series
Quarterly special events
Book Club focusing on social justice issues