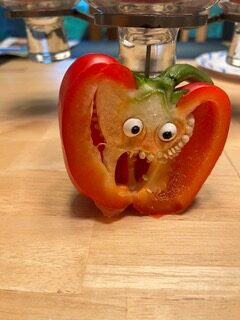 Holy Fun
I have written a few blogs in the past about faces I have seen in my food. There was the banana slice that was smiling at me and the slice of pizza staring at me with those big pepperoni eyes. Because of this, my family and friends have gotten into the habit of sharing with me any pictures they might find of food creatures.
My daughter sent me a post with fun faces made from slicing a pepper in half. Of course, I had to try it.
As I was grocery shopping for our summer family trip to Door County, I realized I had a red pepper on the list. I knew right away what I needed to do. I packed a pair of edible googly eyes along with my sunscreen and bug spray, just in case I might need them, the eyes that is, and boy was I glad I did.
When I cut the red pepper in half that first evening as I was preparing the veggie tray, I wasn't disappointed. (See the above picture) It was screaming for those googly eyes, literally. We had so much fun with Pepe, as the grandkids named him. He joined us at the table for each meal. On the last day of vacation when we had to clear out the refrigerator, it was tough saying good bye. Although Pepe face wasn't quite so cute anymore. Time and heat had taken its toll.
I'm not sure how this story relates to anything remotely spiritual or God related, exceptI really believe that laughter, fun, and silliness are just as much a reflection of our Godlikeness as piety, productivity, and purpose. Those three "P"s are more often associated with real value. But finding joy and laughter in any situation has just as much value. It's an integral part of how God made us. It's just not talked about as often.
I don't recall ever reading about how fun the saints were. Never on a list of holy attributes is fun ever mentioned. It seems strange to even use the word God and fun in the same sentence. But I think we should and I think God would be just fine with that.
Let your God fun out this week. Do something fun for someone else. Be the fun you want to see in the world. Rewrite the words of the classic hymn – "Let there be fun on earth and let it begin with me!"
And don't leave home without your googly eyes,
Joan