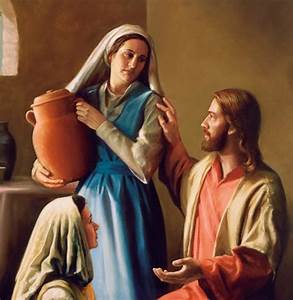 Martha's Fan Club
My blog last week generated a lot of comments. Well three really, but that's a lot as far as I'm concerned. I wasn't sure three people even read my blogs!
The comments were mostly from Martha supporters, women who relate to Martha and would like to see her appreciated for her focus on doing, preparing, and serving.
I agree that the world is a nicer place because of women with the gift of service and hospitality that Martha had. We should commend Martha. She is willing to use her gifts, her charisms, in service to Jesus.
We are learning in the Called and Gifted Workshop at Firstfruits that we all have been given gifts or charisms. They are given to us to carry out our mission in life. That mission is to bring Christ to the world. How we are called to bring Christ to the world however is different for each of us. The mission is universal, the method is unique. And the "world" we are called to minister to could be our workplace, our school, across the nation, or across our kitchen table. God has equipped us with exactly the gifts we need to carry out our unique way of bringing Christ to the world. Those gifts are called charisms. For some it's the gift of Administration, Service, or Teaching. Others it's Wisdom, Hospitality, or Mercy. Still others Craftsmanship, Music, or Leadership. And no gift is better or more important than another.
How many of us realize this? How many of us know what our gifts are and where God is calling us to use them? Martha is to be commended for her willingness to use her gifts for good. She just needed to be reminded of the importance of finding a balance between doing for God and being with God. Prayer and productivity in equal measure.
In defense of Martha, someone pointed out to me this week that Jesus appreciated a nice table and good food too. Look at the Last Supper. This is true. There must have been a woman with the charism of hospitality behind that. Otherwise, we'd see Jesus and the apostles sitting on mismatched furniture surrounded by beer and pretzels!
Here's to the Martha's of the world! God loves you and so do we.
Joan