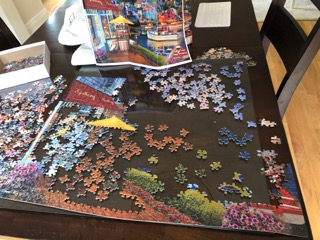 These Puzzling Times
My sanity saver during this time of social isolation has been a one-thousand-piece puzzle. I was never a big puzzle person but desperate times call for desperate measures. Working on a puzzle to me was right up there with showering once a week and blaring the TV as signs of "the next phase" in life that I am trying to deny. But as hard as I try, the mirror, and the guy on my couch full time now make it undeniable.
Time has marched on.
What is so awesome about working on a puzzle though is seeing it go from total chaos, disarray and fractured pieces to harmony, beauty, and oneness. From many to one through connection. A beautiful picture evolves from connecting the many individual pieces.
Last week I shared my "Lessons From a Virus" blog that included some observations and lessons that have come out of these last few weeks. This week the lesson I have learned is the importance of connection. Real connection. Virtual meetings, classrooms, and masses will have to do for now, and I am grateful for them. They really have shown me, however, how much I miss real connection. Connection with my family, friends, and my faith. 
The old adage "absence makes the heart grow fonder" couldn't be more true. Maybe the absence of real connection has brought with it an awareness of how much we need each other and need a living, meaningful faith. One of the many hidden gems to be mined during this tough time. 
Without this connection to others, we can find ourselves in chaos, disarray, and fractured liked the puzzle pieces. Ask any mom or dad of small children these days!
Without this connection to a living and meaningful faith, we can find ourselves in chaos, disarray, and fractured as we let anxiety and fear take the wheel instead of the hope that our faith promises.
Maybe that's what this is all about. The proverbial hit on the head or slap across the face that brings us to an awareness of just how crucial our connections are. We should never take them for granted. We need to nurture them, grow them, maintain them at all costs. 
How are the relationships in your life? Anyone you need to reconnect with?
How alive and meaningful is your faith life? Is there a kink in your connection to God?
Harmony, beauty, and oneness can be the scene at the end of this bad dream. A beautiful picture can emerge from this trying time if we use it as our second chance to get it right.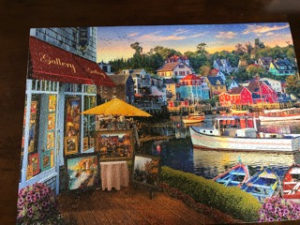 Learn all you can from this very Lenty of Lents. Use it to make new connections, with others and with God. Use it to fit some new pieces into your puzzle.
Joan