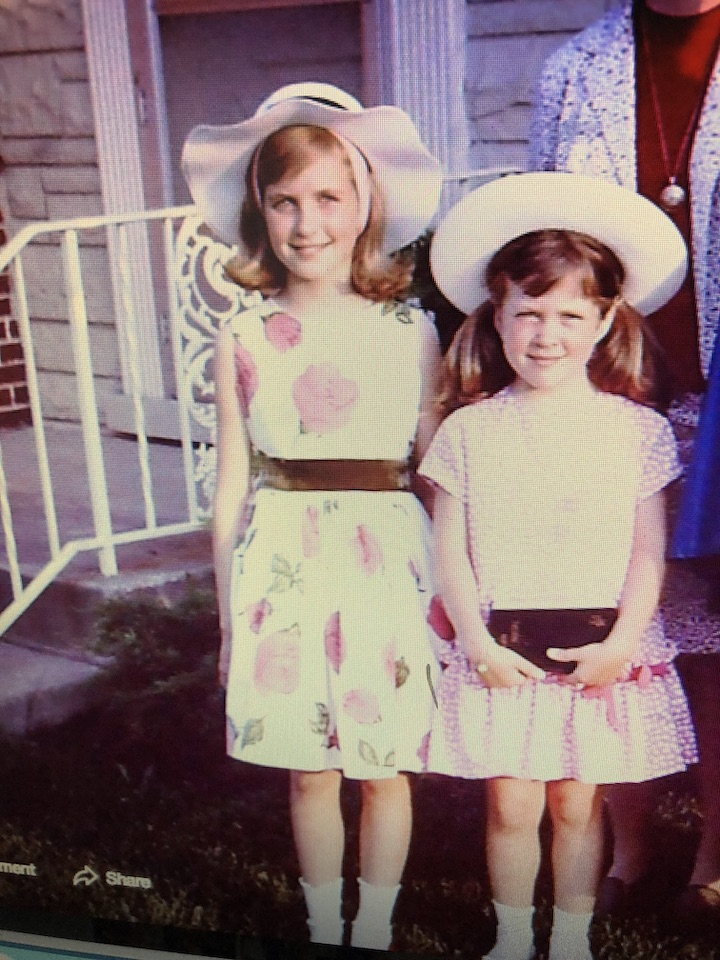 Unfolding to Life
Easter is right around the corner.
I have fond memories of Easter past (see the picture), when I donned my white patent leather shoes with ankle socks, a pastel dress my mom made, and the ever-stylish white straw bonnet with ribbon accent. Oh the good old days. I can still hear my dad's voice as he sang In Your Easter Bonnet from the Judy Garland/Bing Crosby movie Easter Parade while he waited for my sisters and brother and I to finish getting ready for church Easter morning.
"In your Easter bonnet
with all the frills upon it.
You'll be the grandest lady
at the Easter Parade. "
But I'm getting ahead of myself. Easter is right around the corner but what a corner we have to get around first. Death, suffering, sadness, and grief before the promise of new life.
We are about to start Holy Week. I feel blessed to have been "with you" this Lent. I have heard from many that you are reading these blogs so I do feel like I have traveled this year's Lenten path with you. And for that I am really grateful. I cherish the support I will feel knowing we are heading into this somber week together in our love for Jesus. And the joy on Easter Sunday will be multiplied by each one of you.
This week I would like to share a story I received in an email from Sister Gina who attends many of the events at Firstfruits when she can. She lives at the School Sisters of Notre Dame retirement home just a short walk from Firstfruits. Sr. Gina has struggled with hearing issues for quite some time and this year she made the decision to have a cochlear implant. As part of the process she was rendered "stone deaf", as she put it for almost a month. She was in complete silence.  She said she felt God's presence and a deep sense of trust. During that time she penned the following sentiments that are truly inspired and perfect to leave you with as we enter this Holiest of weeks.
Blessings this week and always,
Joan
UNFOLDING TO LIFE
March and winter's rigid and frigid fingers have let go to April and spring's gentle and teasing breezes. Earth is warmed by glorious sunshine and responds with green patches of grass and the push-ups of crocus, tulip, and daffodil buds. Winter was a time of darkness in the soil, a time of rest that gave way to new bursts of life. Spring has always been my favorite season of the year, a time when my inner being bubbles with the sense of new life.
This year is no exception but in a very different way. During the winter months, I struggled in darkness with the decision to have a cochlear implant to replace my failing hearing. When I finally came to a "yes," my spirit was filled with trust in God, in myself and my body. Trust and belief in God's direction in my life are like a song in my heart. Yes, clothed in the glory of spring but so much more. I can't help but think of Easter and resurrection.
As I write this, I am stone deaf while I heal from the surgery. It's in the complete and prayer-filled quiet that Jesus breathes into me the peace, hope, trust, courage, and strength I need to come fully into my new life of hearing. That's the story of my resurrection this year as it unfolds. And I do mean "unfolds." There's a long road ahead of me in therapy and hard work as I progress to my new kind of hearing. Meanwhile, I plan to enjoy the sights and feel of spring tingling through my body, mind, and spirit.
You, too, have a resurrection movement waiting to unfold in the story of your life. In whatever situation you are at this time, be it physical, mental, emotional, relational or whatever, unlock the door of your Upper Room and let Jesus breathe life, peace, hope, strength and courage into your story. Look for spring's new life in yourself and sing a new song in your heart. It might come soon or you might only know it in summer or longer. Just keep the door open for that touch of unfolding resurrection in your life story.
Sr. Gina Redig