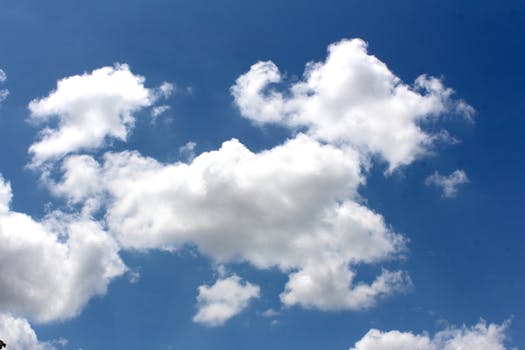 When the Cloud Moves
When the Cloud Moves
Last summer was a busy one for me. Our youngest daughter got married at the same time we were remodeling the space for Firstfruits in Elm Grove. (By the way, if you still are enjoying Firstfruits remotely online and haven't stopped in to our new space yet, please do. It's an amazing witness to God's faithfulness and just a nice, cozy place to hang out.)
So as this summer was approaching I was looking forward to practicing what I preach. That is, taking a Sabbath rest. You've been reading all about it in the guest blogs the last few months. Spending more quiet time in prayer. Taking the time to be more aware of God's presence in the midst of our daily tasks. Being in the moment.
I was doing well…and then the cloud moved.
In the Old Testament when God's chosen people, the Israelites, were wandering in the desert their every need was faithfully taken care of by God. This included guiding them and directing them when it was time to move. They would set up camp in a particular spot until the cloud or pillar of fire moved. Then they knew it was time to pack up and follow. God made his presence known to them in the cloud. A sign of his love and provision. They showed their trust and belief in this loving God by obeying the cloud.
Early this summer the cloud moved. My husband and I made the decision to downsize and move from our house of 19 years into a condo. The dreaded "C" word in my book. I wasn't thrilled about the idea but for a number of practical reasons. It made a lot of sense at this time coupled with the reality of my husband's chronic back pain and inability to maintain a large yard the way he would like to. (Cutting grass is his second favorite pastime after golf. Remember the 75 golf shirts?)
I know it must have been hard on the Israelites having to pack up and move a lot but seriously it had to be easier than this move. I'm sure they didn't have bins of their children's grade school art projects from thirty years ago or boxes of luau decorations from their deceased parents who loved to have luau themed parties. (I kept them.) Not to mention a collection of tea cups and saucers because at one point I thought everyone was supposed to collect something. (I didn't keep them.)
It felt good to purge. Most of the time it was easy to determine what to do with the stuff. But then there were the items that brought a tear to my eye and a lump in my throat. Old love letters my dad sent my mom during the war. Pictures of Trudy and Rudy, past four legged members of our family, and Mother's Day cards I kept stashed away in my nightstand. They ended up in a bin labeled "Precious Old Stuff." Made sense to me.
Change is hard but what made the decision more palatable for me was the location of the condo God provided for us. The cloud moved to a small condo development that is a stone's throw from Firstfruits' new home. If fact there is a gate off of our deck that opens onto the parking lot across the street from Firstfruits. Too perfect to be a coincidence! I love God's sense of humor and his tender care. He knew this move would be hard on me. He knew I needed to be sure. I laugh to myself every time I walk through that gate to Firstfruits.
I do have moments of sadness and grief over the loss of the familiar. Moments of doubt and second guessing. But I remind myself of the blessings to come from following the cloud.
Speaking of blessings, downsizing goes for golf shirts too. I think we're down to seventy-four?
Joan