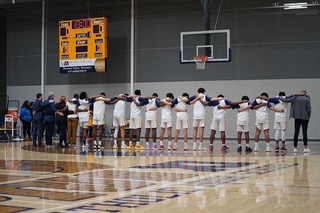 You Don't Know Him
Friday Fish Fry anyone? My Fridays are open now that the high school basketball season is over.
My son is the head coach of the boys' varsity basketball team at Pius High School and my husband is on his staff.  November to March you'll find me in a gym on Friday nights decked out in Pius Popes gear, nervously munching on a Nutter Butter from the concession stand while I try not to care about the outcome of the game.
These games are truly a family affair. My sister and my friend, Mary, sell Spiritwear in the lobby. My brother-in-law wouldn't miss a game. And with the promise of concession stand treats, pom- pom routines to imitate, and free rein to run up and down the bleachers for an hour, the grandkids don't miss a game either.
It's a lot of fun, except when it isn't. My daughter-in-law (the coach's wife) and I (the coach's mother) seem to have developed a keen sense of hearing at these games, almost like we sprout antennae that specifically pick up words of criticism hurled at the head coach. My daughter-in-law especially. All of a sudden, she will turn to me and say "Did you hear that?" And I begin the search for the target of my mama bear glare.
We have learned it's best to sit away from the crowd and give our antennae a rest. It's just so disheartening to hear some of the comments when you know first-hand how hard it is to be a good coach and the sacrifices a coach's wife and family go through during the season. All the blood, sweat and tears a passionate coach pours into his craft trying to create a culture of determination, hard work, and mutual respect, not to mention winning a few games along the way.
When there is criticism, I want to say "But you don't know him."
During this time of Lent, I try to take some time to think about Jesus's mother, Mary, and how the events we reflect on during these weeks affected her. She knew, from the time of his conception, who Jesus really was and what he was destined for.  She longs for all to know him.
In Joseph Langford's book, I Thirst, he says, of Mary; "For the nine months during which she carried the eternal Word within her, she came to know as no other human creature the depth of God's thirst to be with us. In giving birth to Jesus, she brought God's thirst into the world, and from that day forward, her constant prayer was a pleading with the Father to share with the whole world the living thirst within her."
Mary knew her son was destined to be the symbol of God's yearning for relationship with us. His whole life's mission was to provide the way for us to spend eternity with God, quenching his thirst for our love and our souls.
I often think about how hard it must have been for Mary to sit back and hear the jeers and criticisms from those who didn't know her son. How desperately she would have wanted Jesus to reveal himself.
She must have said over and over in desperation, "But you don't know him."
I encourage you to spend some time in the weeks that are left in Lent to get to know Jesus. Ask him to reveal himself in a new and deeper way. It will make his mom so happy.
I also encourage you to join me for a Pius basketball game next season. Look for the two fans way off to the side. The ones with the antennae.
Joan