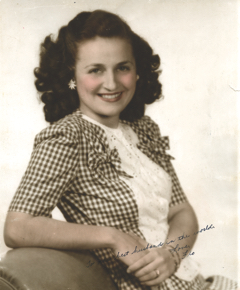 A Mom to the End
I was blessed to be with my mom when she died. It was just the two of us, or so it seemed.
I had been at the nursing home most of the day. I called my husband to join me and bring something to eat. After I hung up the phone, it became clear that mom wasn't going to last much longer.
But being a mom to the end, she didn't want me to be alone when her time came, so she patiently waited for my husband to get there. The minute he opened the door to her room, her heart stopped.
Her last act was an act of deep and caring love for me. I'll never forget that. Whenever I'm feeling particularly blue and missing her, all I need to do is remind myself of that love that was so evident in that final moment of her life.
Hmm…
You suppose she really did that? Maybe there was someone else in control of the situation. Someone who knew exactly what I needed: a lasting remembrance of a mother's love.
I believe those moments are truffles from God. A special gift from a God who knows us like no other, who knit us in our mother's womb.
Rest today in the knowledge that God knows exactly what you need in every situation and desires to give it to you.
Scripture Verses:
Jeremiah 32:40
I will make with them an eternal covenant, never to cease doing good to them.
Psalm 139:13
You formed my inmost being; you knit me in my mother's womb.
James 1:17
All good giving and every perfect gift is from above, coming down from the father of lights, with whom there is no alteration or shadow caused by change.
Discussion Questions:
Do you believe God watches over you?
Do you feel you deserve God's truffles?
Do you ever feel entitled to God's favor because of something you've done?
Do you believe and trust that God knows and does what is best for you?
How does it make you feel to know that God not only provides what we need, but provides it in abundance out of a deep, abiding love?
Listen