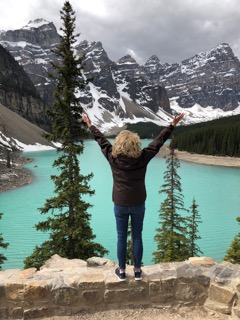 How Great Thou Art
I just got home from a trip to one of my bucket list destinations, Banff National Park in Alberta, Canada. Home to part of the Canadian Rockies and so much more. I can't wait to tell you all about it but as I am sitting on the plane trying to write this blog, I realize there are no words to really describe what we saw.
The splendor and majesty of creation.  The power of the towering mountains and the tenderness of the grizzly bear mama and her cub. The stillness of the mirroring lakes and the harshness of the fast-flowing rapids. The white out snowfalls and the brilliant sunshine lighting up the mountain peaks. And the breathless beauty and color of the glacier-fed lakes. All love letters from the Creator.
God's love is so apparent in nature. A language, without words, telling us how much we are loved. God's subtle yet spectacular language of love. Something we encounter every day but how often we are blinded to what is right in front of us.
I was made aware of this in a very dramatic way on the last day of our trip. We set out to see Peyto Lake which was recommended to us by a local shuttle driver as better than the more well-known Lake Louise. It was a short ten-minute hike up a paved road so we figured we could handle it. As we were parking the car it started to snow. Big deal, you say? You live in Wisconsin, you should be used to it. Well, let me just say mountain snowstorms are a whole different thing. If you think "lake effect" snowflakes are big, you should see the flakes that were settling on our faces as we hiked up the road. They were the size of small Frisbees! Needless to say, by the time we got to the lookout at Peyto Lake it was a total white out. We were blinded to any scenery beyond the pine trees a few feet away. We took a few pictures to laugh at when we got home and started our descent back to the parking lot.
Within minutes of our hike down, all of a sudden, the snow stopped, we saw hints of blue sky, and the sun came out. (Another crazy thing about weather in the mountains, it changes on a dime!) So, of course, we went back up. And what we saw was jaw dropping.
What minutes before was total white was now a breathtaking view. Hidden behind the white out was something unimaginable. Right in front of us but we couldn't see it.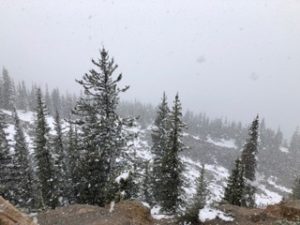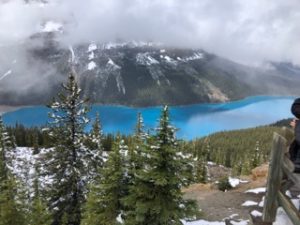 What are the "white outs" in your life that keep you from seeing the beauty God sends your way every day? Preoccupation with problems you have no control over, busyness, or maybe it's unbelief. Tell God you want it to stop, that you want to see hints of blue sky and sunshine. That you want your breath taken away by the beauty He has waiting for you. The beauty that has always been there. His love letter to you.
Joan