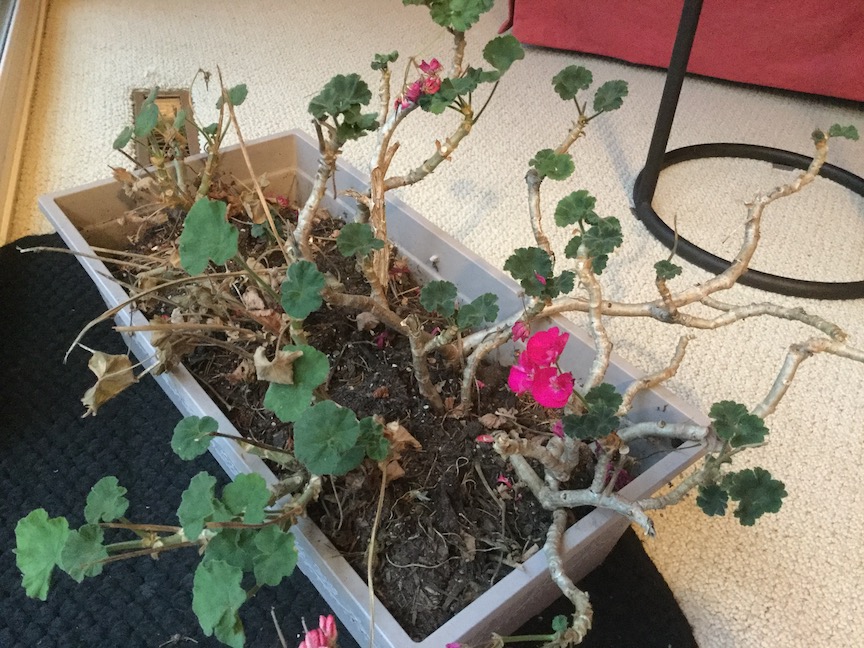 The Lesson of the Geranium
I wouldn't say I have a green thumb exactly but I like to think I do, so I plant tulip bulbs in fall to watch the green leaves push through the spring ground never to be followed by a flower. Just green leaves.
I plant annuals every year and make sure they are spaced just the right distance apart as recommended so as they grow and flourish they don't overlap too much. Mine are exactly that same distance apart when it comes to pulling them out for the fall clean up. Never have to worry about my garden becoming unruly.
Then there were the years I decided to "go green" and grow my own vegetables in raised beds in our backyard. I thought it would be fun for the grandkids to learn about reaping and sowing and harvesting. Well…thanks to the clever rabbits and pesky deer, the lessons they learned were life isn't fair, nature is cruel, and Pick-n-Save has carrots too.
Uncharacteristically, last summer I was able to grow a beautiful planter of vibrant pink geraniums. I had heard you can bring geraniums inside for the winter and they will continue to grow. So that is what I did. Well, true to form, my indoor geranium experiment left much to be desired. (See photo)
I was reflecting on my planter of disappointment when a thought came to me.
So this didn't turn out how I had hoped none the less there is a simple beauty in how it did turn out. That small burst of bright pink blossoms is beautiful. It is color at an otherwise grey and white time of year. It's a sign of hope and potential. Of good things to come. A reminder of life always present. A reminder of God's presence.
We all have experienced in one way or another the disappointment, doubt, and questioning that happens when what we hoped for, what we dreamed of, what we expected, didn't happen. Whether it's our marriage, our children, our careers, our health, everyone at some time is challenged to accept a reality that is difficult. That acceptance involves letting go of what we expected, grieving what isn't but then looking for the bright, pink blossom. The promise of good. The hope of things to come. The potential for new life. The presence of God.
I love my sick looking geranium planter. It might not bring me the Elm Grove Beautification Award next summer when I put it back outside but that's ok, it has taught me something much more important, acceptance, gratitude, and hope. Hope that those darn tulips will bloom next spring!
Joan