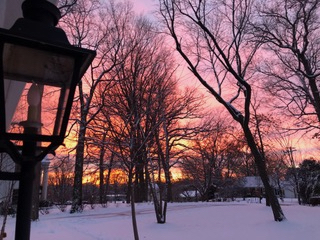 The Promise of a Sunrise
I took this picture outside our front door the other day. A beautiful sunrise in the east peeking through the starkness of the bare trees and hardness of the snow-covered ground. It reminds me of what this season of Lent is all about. A temporary darkness with the promise of coming light.
Lent is a somber season when we are encouraged to do a lot of soul searching. We are called to take a hard look at where we have fallen short in our efforts to love. We are called to take a good look at where we have fallen away from the love of God. Where we have turned our backs on the grace and the love that is waiting for us. Where we have been duped by the world's false promises instead of being delighted and delivered by God's immutable promises. He calls us back. Again.
It's a reflective season when we take in, with gratitude, the abundance of what we have been blessed with and offer what we can to those who have less. We are called to share our firstfruits. The best of what we have is to be shared generously.
It's a colorful time for our prayer lives. We are called to deeper and more regular prayer. It's an opportunity to try some new prayer practices. Get creative. Prayer is conversation, prayer is quiet, prayer is a walk, prayer is a cure for insomnia. Prayer is with beads, prayer is with trees, prayer is in the car, prayer is in the shower. Don't confine your prayer, let it free.
The other thing that struck me about this picture is the promise of newness, the promise of potential, the promise of hope that the rising sun brings to a dark world each day. God promises those same things to us come Easter morning after our days in the darkness of Lent.
This time of Lent shouldn't be rushed. Stay in it. Learn, grow, pray, share, and trust.
Know that the Son will rise with all His promises and it will be beautiful.
Joan