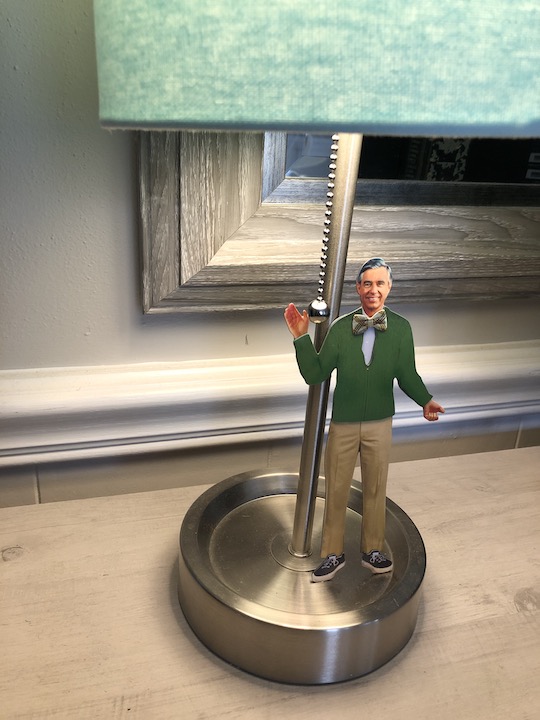 Cardigan Sweaters and Bow Ties
This week I saw the new Mister Rogers movie called It's a Beautiful Day in the Neighborhood.
To say I love Fred Rogers is an understatement. I have often used him in my talks and writings in the past. Anyone who knows me, knows my admiration for him. St. Nick, (a.k.a.- my friend Mary) gave me a magnetic dress-up Mister Rogers. He now has a prominent place on my desk lamp in my office. (See the picture.)
I really believe the world would be a better place if more people could let out their inner Fred.
We are all born in the image and likeness of God. We harbor within us an inherent goodness, a goodness that has the power to significantly touch the lives of others in a positive way. It can ignite transformation.
On top of that we have within us the indwelling Holy Spirit whose gifts are at our disposal all the time. When we stir up the Holy Spirit, our lives bear witness to the fruits of the Spirit, which are love, joy, peace, patience, kindness, goodness, faithfulness, gentleness, and self-control.
Sounds a lot like Fred Rogers. To me he is a good example to us of what a life in the Spirit looks like. His genuine kindness and care for others, especially children, his simplicity, his patience, his gentle disposition, the peace that followed in his wake, and the apparent joy his face reflected, all gifts of the Spirit, all desperately needed in the world today and all within each and every one of us waiting to get out.
He reminds us that true power lies in simplicity, humility, genuineness, and vulnerability. The act of simply giving your full attention and listening to someone can change a life. Admitting mistakes and that you don't know it all, can heal a relationship. Asking for help can give someone purpose. Sharing feelings can release others from the bondage of their own. It's with these attributes that the Holy Spirit can work.
In this second week of Advent let's ask God to show us how to stir up the Holy Spirit in our own lives, how to unleash the power for good that we all have within us. How to just be kinder, gentler, and more loving.
What a beautiful day in the neighborhood that would be.
Joan