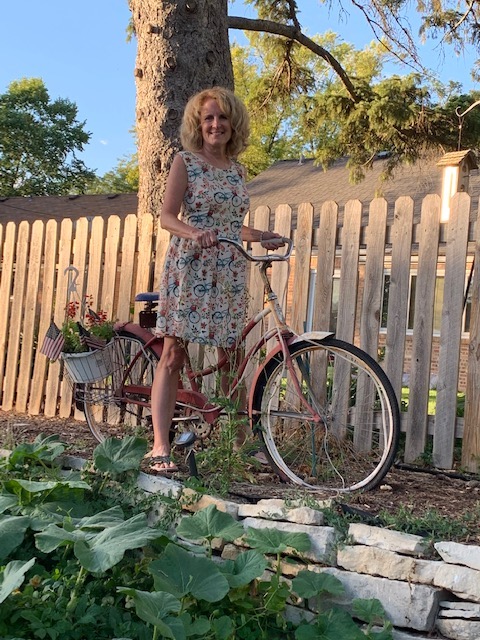 Fun Club
The bicycle dress made its debut at Fun Club last night. Here I am in this picture after scaling the wall in my friend Deb's neighbor's backyard to grab what obviously was the perfect photo op. The minute we saw that bicycle flower planter I knew what I had to do.
That's the kind of fun we have at Fun Club. It all started over 25 years ago. Four dear friends and I decided we needed more fun in our lives. Life had thrown us some curve balls, as it promises, so we began meeting monthly to just have fun.
The best part about Fun Club is that inevitably at some point during the evening something sends us into that kind of belly laughter that makes your face turn ugly, your lungs gasp for air, and more recently your bladder beg for mercy.
The other best part about spending time with true friends is the afterglow. The feeling of love, acceptance, and gratitude that washes over you.
Friends are gifts, if we let God be the giver.
Women in particular, are wired for relationship. We need to be connected, to feel we belong, to feel supported and cared for. It starts early and never goes away. I wasted so much time and energy in pursuit of my best friend. After much disillusionment, but before I started begging, I gave up.
I heard a speaker talk about the importance of, and the blessings inherent in, surrendering all areas of our lives to God. She asked the question "In what area of your life have you not surrendered?" I realized I needed to surrender my need for relationship to God and let Him take over. I had to trust He knew me even better than I knew myself. Boy did He. 
Best thing I ever did.
God began to gift me with all kinds of "friends" as soon as I handed it over and broadened my definition of friend. God gifts us with all kinds of people in our lives to connect with, to feel supported by, to feel cared for by. They aren't at all what you would have picked if left to your own devices. That's the fun part. They come in all ages, colors, and backgrounds. They stay for years or they come and go. You don't know their birthdays or maybe even their last names but you share your stories and learn from their wisdom.
And sometimes you never even meet them. They just read your blogs.
That's the beauty in God's plan for us. He makes the connections that we so deeply desire, but He's very creative in how He does it. Stay open to the possibilities.
Your "friend,"
Joan