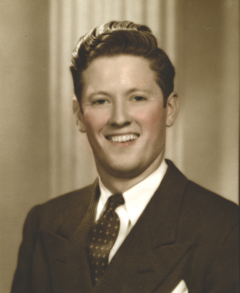 My Sarcastic Dad
My dad was a great man, a great husband, father, and provider. He had a great sense of humor, if you like the dry, sarcastic kind. He wasn't that great at compliments though. So as children, my siblings and I quickly learned to read between the lines to find my dad's true feelings.
Hidden in his sarcasm was the love and pride he had for the four of us.
Like the time I got all dressed up for a high school dance and as I was coming down the stairs all decked out, he smiled at me and said, "Oh, is the circus in town?" Which I knew really meant, "You look beautiful, sweetheart!"
Or when he used to call me Deuteronomy every time he saw me after I started a bible study at church, which really meant, "I'm proud of you that your faith is important in your life."
I always knew my dad thought "I hung the moon," as the saying goes, even though at times the situation may not have looked like it.
Hmm…
Isn't that how God's love for us is? Sometimes situations in life make it hard for us to see and feel God's, our Father's, love. We have to read between the lines, remind ourselves that even though it doesn't look like it now, God's love is, and always will be, there.
That's a promise from a God who thinks you hung the moon. (Even though he knows he did!)
Scripture Verses:
Genesis 28:15
Know that I am with you; I will protect you wherever you go, and bring you back to this land. I will never leave you until I have done what I promised you.
Psalm 27:7-10
Hear my voice, Lord, when I call; have mercy on me and answer me. "Come," says my heart, "seek God's face;" your face, Lord, do I seek! Do not hide your face from me; do not repel your servant in anger. You are my help; do not cast me off; do not forsake me, God my savior!
1 Peter 1:6-9
In this you rejoice, although now for a little while you may have to suffer through various trials, so that the genuineness of your faith, being more precious than gold which is perishable, even though tested by fire, may prove to be for praise, glory, and honor at the revelation of Jesus Christ. Although you have not seen him you love him; even though you do not see him now yet believe in him, you rejoice with an indescribable and glorious joy, as you attain the goal of your faith, the salvation of your souls.
Discussion Questions:
Have you ever prayed to God and felt he didn't hear you?
In what situation right now does it feel like God is far away?
Can you compare a time in your life to that of Christ's when he thought God had abandoned him? How do you keep the faith during those times?
Can you recall a time when God was faithful to you (i.e. answered your prayer, came to your aid)?
Listen