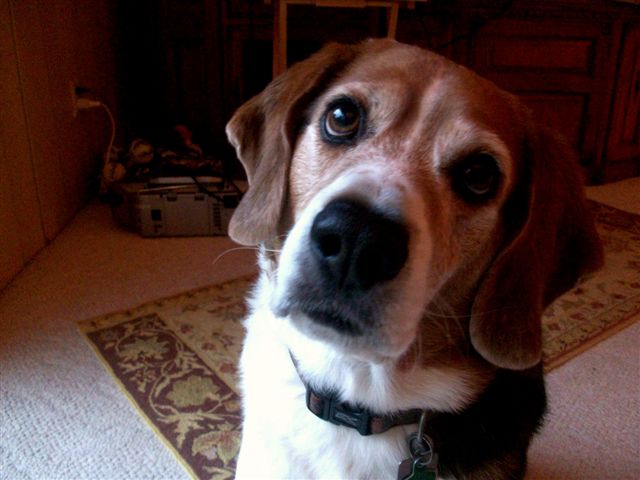 Abiding
Thank goodness for my four-legged friend, Rudy. On any given day he is the difference between the love I need and the love I receive. No offense to my husband and kids, but you moms know what I'm talking about.
My dog Rudy loves me no matter what.
He adores me.
He has to be in the same room with me when possible.
That's what I mean about husband and kids. You don't get that kind of love from either, past the age of ten for the kids, and maybe after the fifth anniversary for the husband.
If I'm behind a closed door, Rudy waits, head resting on paws, looking up with his brown eyes, waiting for the door to open. He can't stand to be separated from me. Because when we are together, life is good, and he can rest in that.
Hmm…
It dawned on me that Rudy is doing what God calls us to do – he is abiding. Life is good, and we can rest when we rest in Him, when we abide in Him and Him in us. When we love Him and adore Him. When we let our desire to be near Him bring us to the Eucharist, and our desire not to be separated from Him keep us from sin.
There is no doubt Rudy loves me. Can God say the same about you and me? Show Him today.
Who knows, maybe he'll reward you with a treat.
Scripture Verses:
Exodus 6:6-7
Therefore, say to the Israelites: I am the Lord. I will free you from the forced labor of the Egyptians and will deliver you from their slavery. I will rescue you by my outstretched arm and with mighty acts of judgment. I will take you as my own people and you shall have me as your God.
John 15:4
"Abide in me, and I in you. As the branch cannot bear fruit of itself unless it abides in the vine, so neither can you unless you abide in me."
1 John 3:24
The one who keeps his commandments abides in him, and he in him. We know by this that he abides in us, by the Spirit whom he has given us.
Discussion Questions:
Explain Jesus' words "Abide in me and I in you."
How can you show your love to God?
How do you experience God's love?
Knowing God abides in you, what needs to change about you?
What obstacles keep you from abiding in God?
What can you do differently to ensure that you are moving towards an abiding love?
Listen